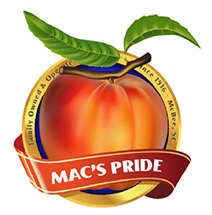 MCLEOD FARMS
Although Georgia calls itself "The Peach State," South Carolina is actually the leader in peach production in the Southeast, followed by Georgia and Virginia.
Since 1916, McLeod Farms has grown peaches in the sandy, loam soil surrounding the small town of McBee, South Carolina. Fourth-generation owner Kemp McLeod and his son, Spencer, grow peaches on land that has been in his family for a century. The nearly 30 varieties they grow include the Cary Mac variety, developed exclusively by McLeod Farms and named for Kemp McLeod's grandfather.
Voted the South Carolina Farm of the Year in 2011, McLeod Farms has a national reputation for being one of the top-notch farms in the United States. They utilize a variety of high-tech equipment, including a modern drip irrigation system and high-speed wind machines. These wind machines work with nature to pull warmer air from the upper atmosphere down into the orchard to raise ground level temperatures and save crops from devastating cold and frost damage. In spring and early summer, hail prevention equipment crushes hail by generating high-frequency sound waves to protect fruit from potential damage.
Although peaches are their number one crop, McLeod Farms also grows strawberries and blackberries in the spring, which have become very sizable crops. Kemp McLeod's hands-on, meticulous approach throughout every step of the growing and packing processes makes the Mac's Pride-labeled peaches one of the most flavorable, juiciest peaches in the world.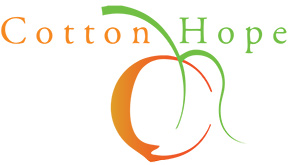 COTTON HOPE
Cotton Hope sits comfortably on "the Ridge," near the small town of Monetta. It sounds like a landmark, but the Ridge is a slice of heaven on earth, known for the peaches that grow there in juicy abundance. It's South Carolina's most famous peach growing region, and it's one of the most popular sources of the fruit worldwide. Peaches are said to just be sweeter here. Cotton Hope's owners, cousins Tristan and Clark DuBose, have farmed peaches since they were kids. They can get peaches from tree to table in two days or less
— almost as fresh as picking and eating them in the orchard. The cousins know the secret to growing a peach that requires a napkin to catch the juice that drips from chin to elbow.
Cotton Hope officially opened in 2005, but the family partnership is decades strong
— the DuBose family has grown peaches in Monetta and neighboring Ridge Spring for 75 years. Tristan and Clark were born into farm families, their fathers grew peaches, the cousins worked the orchards, fertilized, plowed, picked by hand and did whatever was required. After graduating together from Clemson University, both DuBoses continued to work with their fathers. Eventually they found independence of their own but stayed within the family tradition.
Clark DuBose continued with peaches and was the original owner of Titan Farms before selling it in 2002. Meanwhile, Tristan and his sons developed a loyal following from folks who appreciate the taste of a sweet Carolina peach. In 2005 the cousins decided to invest heavily in a new packing shed to better process and ship their peaches. Since then, they have become one of South Carolina's top peach producers. Together, they grow 35 varieties each year, most of which are sold commercially.