Richter and Company evolved from the energy and vision of Moses Richter, a Ukrainian immigrant who came to America in 1913. Only 13, he traveled alone, walking to Greece from the Ukraine to catch a ship bound for the United States.
Moses settled in Mount Gilead, a small river town in the Uwharrie Mountains between Charlotte and Greensboro, North Carolina, where he eventually opened a general store. When business slowed in the summer, Moses peddled his merchandise to farm families. As his friendships with farmers grew, they confided in Moses that they weren't getting a fair price on the peaches they sent to Northern markets. Moses volunteered to look after their interests and boarded a train to New York City.
Determined but broke, he slept on park benches and worked the Washington Street Market, the epicenter of New York's produce world. A trader in Leef Brandt's firm took a liking to Moses and gave him a desk where he worked and a cot where he slept.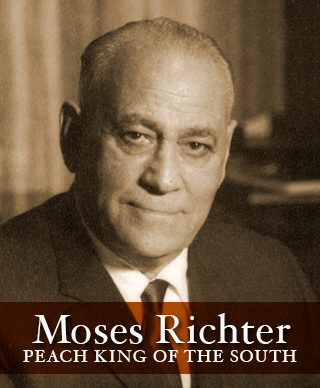 Moses and his family never forgot that kindness and continued doing business with Leef Brandt for more than 70 years until another company took over. Eventually, Richter and Company grew to represent peach growers in the South and East and sold to customers throughout the United States and Canada.
Moses earned the title of "Peach King" for his style of marketing sweet, Southern peaches.
After serving in the Navy during World War II, Moses' son, Bernard, joined his father in business. Bernard led the company for 20 years, into the 1980s, finding a way to get produce directly to hometown grocery chains. He laid the foundation for many of the long-term relationships with retailers the company enjoys today.
In the 1970s Bernard's sons, Benjie and Lloyd, came aboard. They assumed leadership of Richter and Co. in the 1980s and have expanded its reach, volume and expertise. The brothers have directed the company into new products to sell, and they have enlarged the customer base throughout North America and into Mexico.
Today, Richter and Co. farmers provide families only the finest fresh peaches, Vidalia onions, bell peppers, blackberries, strawberries and watermelons.