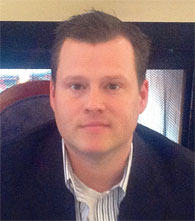 Produce distributor Richter and Co. welcomes Jarrod Snider to its sales team as vegetable commodity development director. Snider oversees the sales growth and development of our vegetable commodity line, said President Benjie Richter. Snider is based at the company's Southlake, Texas, office.
His experience and reputation throughout the industry will help strengthen and expand the company's existing vegetable programs in Georgia and South Carolina. Richter and Co. is launching an aggressive sales and marketing campaign to promote its year-round sweet onion program and also is expanding its bell pepper, sweet potato and eggplant operations.
Snider has more than 17 years of experience in the fresh produce industry, working most recently at Frontera Produce Ltd. Past work includes positions at Standard Fruit and Vegetable Co. Inc. and Fresh Del Monte Inc.